National Philanthropy Day®(NPD) (November 15th) is the special day set aside to recognize and pay tribute to the great contributions that philanthropy – and those people active in the philanthropic community–have made in our lives, our communities and our world. It reminds us of what we can achieve and what lies ahead in the future. As we celebrate NPD and our achievements, we celebrate the promise of a better tomorrow.
NPD is a celebration of philanthropy—giving, volunteering and charitable engagement—that highlights the accomplishments, large and small, that philanthropy makes to our society and our world. It celebrates charitable accomplishments and encourages Canadians to give back to their communities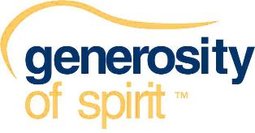 Generosity of Spirit™ Awards: CALL FOR NOMINATIONS
Deadline for nominations is EXTENDED TO 5 p.m., Friday, September 24th, 2021
AFP Calgary and Area Chapter recognizes the many individuals, families, groups and businesses who demonstrate the spirit of philanthropy through outstanding contributions of time, talent, leadership and financial support. The Generosity of Spirit™ Awards provides the opportunity to acknowledge and celebrate these philanthropic leaders that make a difference in our community – whether the community is local, regional, national or international.
Generosity requires participating to make a difference; it is a tool to create a better world. Your nominee's generosity can be characterized as voluntary, powerful, multi-faceted, active and self- perpetuating.
For the past 24 years, the Generosity of Spirit™ Awards have been a vital component to National Philanthropy Day®. This day provides an opportunity for non-profit organizations, professionals, volunteers, service organizations and others in the community to acknowledge and showcase their philanthropic partners.
We are proud to accept nominations in the following categories*:
*Please note, AFP Calgary & Area Chapter reserves the right not to award in any of the categories
How it Works
Any non-profit organization in Calgary and surrounding area, may submit a nomination application in any or all of the GOS award categories for a donor(s) to their organization. Nomination applications are reviewed by a jury of fundraising professionals and industry partners to determine an Honouree in each of the GOS categories. Please note that AFP Calgary & Area Chapter reserves the right to not select a recipient in any category, should there be an inconclusive winner.
AFP Calgary & Area Chapter will inform the Nominating Organization(s) of the results of the jury selection by email. Members of the GOS Jury will be assigned as a liaison to each of the Honourees. The GOS liaison will work with the representative of the Nominating Organization to provide all the details of the Awards Luncheon and Presentation.
The Nominating Organization is responsible to prepare a one-minute video to introduce their Honouree.
The video will be used at the Awards Luncheon and will be available on the Chapter's You Tube Channel and Website for recognition and future reference. The Nominating Organization is expected to attend National Philanthropy Day events that recognize and honour your nominee.
That's it in a nutshell. Now here are the details.
IMPORTANT DATES
Generosity of Spirit™ Honouree Meet and Greet ………….. Tentative (date TBD)
Philanthropy Awareness Week…………………………………………… November 9 -16, 2021
Generosity of Spirit™ Award Reception …………… November 16, 2021 (prior to Awards)
National Philanthropy Day® Awards Luncheon …………………………. November 16, 2021
IMPORTANT NOMINATION CONSIDERATIONS
Generosity of Spirit™ Award Recipients are honoured as part of National Philanthropy Day. Therefore, there are two key events that nominees must attend:
1. Generosity of Spirit™ Awards Reception, to be held in November 2021 (date TBD)
2. National Philanthropy Day® Generosity of Spirit™ Awards Luncheon on November 16, 2021. This event may be virtual, or a combination of virtual and in-person, depending upon COVID-19 restrictions.
NOMINATION GUIDELINES
Nominators may submit nomination Applications in more than one category for the same nominee or multiple nominees.

Nominations must be submitted on the AFP Calgary & Area Chapter website fillable form found under "Awards"

Joint nominations from individuals or organizations are encouraged (maximum of 2). Please include a contact person for each nominating organization

Re-submission of previous nominees who have not been selected is encouraged.

Posthumous nominations will be accepted (in all categories) however only in the year following their passing; for this application individuals who passed away after January 1, 2020

Nominations will be held-over for two years. Therefore, if your nominee is not selected this year, their nomination will be considered again in 2022 and 2023. You must agree to this in the application to ensure you are in agreement with this. Nominating organizations may opt out of this if they choose.

Your nomination application includes four (4) questions; nominations in the Lifetime Achievement category MUST answer an additional fifth (5) question

ONE letter of support is required for each nomination application. This supporting letter MUST be from an external individual, organization or company from the nominating organization. It cannot be from a board member of the nominating organization.

In order to best serve your nomination, the GOS Jury man move your nominee to a more appropriate category. If this is the case, you will be consulted prior to final selection of the award category.

In the case of Corporate/Small Business categories, the Nominee's support MUST be philanthropic in nature, rather than sponsorship or cause marketing.

Specific/singular special events CANNOT be nominated. Events or a series of events can be PART of an overall philanthropic program, strategy or engagement but one cannot be the sole focus of the Nominees involvement

Family Foundations cannot be nominated; the family themselves may be nominated

The Nominee may have received the GOS Award previously, but it must be more than 5 years ago. Please check with the AFP Calgary & Area website for details, or contact the Chapter Administrator

Executive directors and staff are prohibited from supplying the Letter of support for their own organization.

No materials other than those outlined will be accepted. Any additional material will be discarded.

Late submissions will not be accepted.
NOMINATION CATEGORIES
1. CORPORATE PHILANTHROPIST:
Bestowed upon a corporation or corporate foundation with 100 or more full-time equivalent employees. Sponsorship support and cause marketing will not be considered for this award.
2. SMALL BUSINESS PHILANTHROPIST
Bestowed upon a small business with fewer than 100 full-time equivalent employees. Sponsorship support and cause marketing will not be considered for this award.
3. PHILANTHROPIC GROUP
Bestowed upon groups such as service clubs, associations, employee groups, or people who have joined together to help change their part of the world. The group must be fully voluntary and have made contributions of time, talent and/or treasure. Please focus on the philanthropic activities of the group. Singular/specific events themselves cannot be nominated. Events can be used as examples of the group's efforts.
4. DOC SEAMAN INDIVIDUAL PHILANTHROPIST
Bestowed upon an individual whose time, talent and treasure have made a significant impact on philanthropy. Financial contributions may be made through his/her personal foundation. The nominee cannot be an employee of the nominating organization.
5. YOUNG PHILANTHROPIST
Bestowed upon an individual under the age of 25 who has demonstrated exceptional skills in coordinating and motivating others to engage in one or more fundraising project(s) that has/have made a significant impact on the nominating organization.
6. PHILANTHROPIC FAMILY
Bestowed upon a family that demonstrates the Spirit of Generosity™ through gifts of time, talent and treasure to the nominating organization and to others. The family may be known in the community for its support of philanthropy over several generations, or may be a young family that is teaching children the value of giving to others by being involved in the community. Family foundations are not eligible.
7. LIFETIME ACHIEVEMENT PHILANTHROPIST
Bestowed upon an individual or couple who have demonstrated a long history of philanthropy, and has been a pioneer in advancing philanthropic support to the charitable sector.
Generosity of Spirit™ Awards: CALL FOR NOMINATIONS
We are proud to accept nominations in the following categories*:
*Please note, AFP Calgary & Area Chapter reserves the right not to award in any of the categories
Deadline for nominations is EXTENDED TO 5 p.m., Friday, September 24th, 2021