There are close to 200 members in our Chapter and many more supporters. In this regular feature of the Pipeline, we will introduce you to long-serving members who have shaped the profession and the Chapter. Our Finders will introduce you to some of the newer Chapter members and people you may meet in one of our upcoming events
Member Profile – Finder:
Cindy Ngo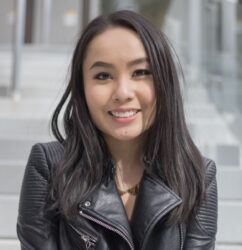 This month we are pleased to present two Member Profiles, as our membership continues to grow and diversify, and to help us network during these times of distancing, we're offering up two categories of member profiles – Founders and Finders.  Founders will give our readers the opportunity to learn about some of the Chapter's founders – as we move into our 25th anniversary.  Finders will give you the scoop on people who are relatively new to the Chapter and give you a chance to get to know each other. 
Our "Finder" Member Profile features someone you may know, and we hope you will get better acquainted. Cindy Ngo is the Annual Giving Officer with the Calgary Health Foundation. She joined CHF in 2019, after spending two years with Inn from the Cold. Cindy has played the very important role of Program Committee Chair for the Chapter. This year, she moved into another leadership role, joining the board as chair of the Professional Development and Advancement (PD&A) committee. Born and raised in Calgary, Alberta – Cindy is a proud native Calgarian and a graduate of the University of Calgary. You'll meet Cindy, virtually for now, at any of our monthly program offerings.
Here's what we learned from Cindy:
How did you come to fundraising and how has the road been so far?
Like many of her colleagues, Cindy fell into fundraising. As an economics major, she joined the university's Economics Society and served as Director of Finance. What she quickly learned was that this position was responsible for securing sponsorships for the club. At the time, she didn't think of this as fundraising. During her time at the University of Calgary, she did an internship as part of her co-op program, with the Calgary Drop-In and Rehab Centre. In her role as Computer Instructor, she thought of a way that the Employment Services Training program could reduce program costs. She knew of a grant that supported small programs like this called the University of Calgary's Committee of 10,000. She applied for a grant to train someone internally from the organization. And as you would guess, she was successful. She caught the fundraising bug. After graduation, she secured the role of Development Associate with Calgary's Inn from the Cold, and as they say, the rest is history. Cindy advanced to Fund Development Associate with The Inn, and later joined the Calgary Health Foundation in 2019.
"The road has been lots of fund so far," says Cindy.  "There is a steep and continuous learning curve, not only about fundraising, but the entire non-profit sector. People in this work wear a lot of hats."
2. What has been your most memorable moment so far?
There have been a lot of memorable moments for Cindy. Probably her most memorable so far, has been stewarding a donor at The Inn. It was inspiring to secure the donor for an ongoing meal sponsorship at the $1,000 annual level. Then to steward that donor to becoming a three-year $10,000 commitment was truly fulfilling, and really makes it clear how important stewardship is.
3. What encourages you and motivates you every day in your job?
What Cindy enjoys the most are the people and relationships that you build with both colleagues and donors. It's exciting to be always building connections. It is so motivating to know that the work you do is making the world a better place.
4. Tell us about the value you find in being involved with AFP Calgary & Area Chapter
I see incredible value in being part of AFP and the Calgary Chapter in particular, especially as someone new to fundraising. They are an amazing resource in my career. I started volunteering in this area, professional development, as it had great value to me personally. I am learning a lot every single time we hold an event.
5. When you're not working, what do you like to do?
"I'm a real foodie" Cindy says.  I love to go out and eat food. I am constantly looking for the best eats in town. When she is not practicing to be Calgary's next food critic, Cindy enjoys being photographed. Most people don't flock to getting their photo taken, but Cindy enjoys helping new photographers build their portfolio and strengthen their skills.  Cindy has history of volunteerism through her school career. In her spare time she continues to help people in social media marketing.
6. How has COVID changed your work?
"In my personal life, it's been a drag. I am a people person. I love crowds, festivals and events. All of which are on hold." In her work, however, Cindy finds that it hasn't disrupted here job too much. Most of her work she is able to do in their work from home environment. But as a people person, she feels disconnected from her team and misses that valuable connection.
Now that you've got to know Cindy, feel free to introduce yourself at our next Chapter event, and consider volunteering with the Chapter.
Member Profile – Finder: Cindy Ngo