There are close to 200 members in our Chapter and many more supporters. In this regular feature of the Pipeline, we will introduce you to long-serving members who have shaped the profession and the Chapter. Our Finders will introduce you to some of the newer Chapter members and people you may meet in one of our upcoming events
Member Profile – Finder:
Ron Smith

Our "Finder" Member Profile features someone you may not know yet, but should get acquainted with.  Ron Smith is a Development Officer with the Calgary Health Foundation. Ron joined CHF near the end of 2019.  In the spring of 2020 he joined the Chapter Board as Treasurer. Ron has been a great asset to the leadership team since then. Born in Devon, Alberta – Ron and his family have made Calgary home for almost 24 years.  Here's what we learned when we zoomed-in and chatted with him:

1.       How did you come to fundraising and how has the road been so far?
Truthfully? Accidentally! Since my early teens, I've had a natural ability to motivate people around causes that I personally believe in. Back then that may have meant impacting 50-100 students. Now, serving the Calgary Health Foundation, that impact is MUCH greater! Even though I'm not the one cutting the cheque, I play a key role in sharing our story which leads to securing a donation. Since achievement is one of my core values, fundraising provides me with professional and personal accomplishment. It's an awesome way to spend my days.

2.       What has been your most memorable moment so far?
Fortunately, I've had many memorable moments in fundraising and feel blessed to have been part of several great organizations. I suppose the largest gift I ever secured was a highlight. I didn't know it at the time, but that gift had a 10 year back story. Through a very fortunate series of events, the result was a donation amount that was beyond our wildest dreams. Looking back it was really Cultivation 101, but it solidified the importance of knowing your numbers and asking for what you need.

3.       What encourages you and motivates you every day in your job?
Serving the organization I work with is key. At Calgary Health Foundation we work in the realm of essential services and it's important work. One of our current priority areas is the Neonatal Intensive Care Unit (NICU) at the Foothills Medical Centre. Through our Newborns Need Campaign, we've seen many generous donors support this cause. I am motivated by ongoing conversations with donors and inspired by their personal involvement and financial commitment to the health of our city.

4.       Tell us about the value you find in being involved with AFP Calgary & Area Chapter
To start with I'm surrounded by a lot of very cool people! Fundraisers Rock!! It's also rewarding to put some of my non-fundraising skills to good use; currently as Treasurer of the Chapter. I feel it's important to give back to the industry we are part of.

5.       When you're not working, what do you like to do?
I'm a bit of a knowledge junkie! I like to read non-fiction, usually about personal improvement and real estate. When I'm not learning something, I'm an active Dad and loving husband. (…right honey?) To my family's disbelief, I've recently taken up outdoor activities including winter camping. I also like to play my electric guitar; not that well, but really loud!

6.       How has COVID changed your work?
I'm a collaborator and thoroughly enjoy working as part of a team. With the restrictions first brought on by COVID, everyone at the Calgary Health Foundation were sent home to work. It took some time to get used to fundraising at home….virtually, but it's all good now. As a family, we have a much quieter schedule than we did before which allows for more time to focus on the things that really matter, like self-care, family time and community involvement. Including the AFP Calgary community!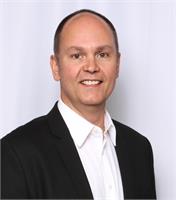 Member Profile – Finder: Ron Smith